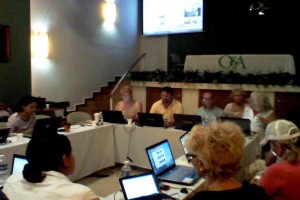 "Education is the key to success".  It is a maxim that no one can ignore. This time, the real estate agents who comprise this area -AMPI Vallarta Nayarit: (Vallarta, Riviera  Nayarit and Compostela)- continue our preparation and commitment for improvement.
The first of three training sessions, dubbed Super-Flex,  for the area's new MLS system was held in a member office in Marina Plaza this past week.  The MLS service  was installed as the official site for the search and registration of properties in this area in May of this year and continues to enhance the process of buying and selling real estate in Vallarta.
The scheduled dates for the remaining Super-Flex courses are Friday, 9 September and 23 September, taught by Marilyn Newman, Robin Miller, Luis Muñozcano and Colin Maruk.  The 30th of this month, AMPI will offer a course for step by step instructions on "How to create a CMA (Comparative Market Analysis)", which will be the culmination of this training series.
Stay connected and stay informed.  We'll keep you up to date on future education opportunities for real estate in Vallarta.