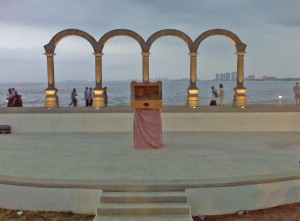 Puerto Vallarta Centro
Puerto Vallarta Centro or Down Town is located around of El malecon and Church "Nuestra señora de Guadalupe". In this area are several neighborhoods among which are: 5 de Diciembre, La Pechuga, El Centro, Gringo Gulch, El Cerro, Emiliano Zapata,  Olas Altas,  Los Muertos, Altavista, also we can consider part of the area but no centro, neighborhoods like El Caloso, El Remance, Gastronómicos, Benito Juárez, Las Peñas, Paso Ancho, Palito Verde and Las Canoas.
The first foreigners to settle in Puerto Vallarta Centro chose this area to build their villas, lured by the panoramic views of the bay, mountains and Cuale River.
For those longing to live in Puerto Vallarta and to truly feel the soul of this quaint Mexican village, there is no better place to live than in El Centro.
Constant, cooling breezes add to the enjoyment of the wide terraces and open 'Vallarta' architecture employed in the majority of homes found here. In addition to villas, duplexes and isolated condominium buildings, a limited number of small lots remain available. Prices here are generally firm; demand for the premier properties has not waned since Richard and Elizabeth first lived here. Real Estate prices begin approx. in the low $500´s and condos in the high $200´s. Puerto vallarta Centro, definitely is the place to live in!
The results are all Real Estate in Centro Area including lots, condos, homes, etc. If you want to do so, then change preferences in "edit search" tab.
More areas: South Shore, The North Hotel Zone
[customcontact form=1]